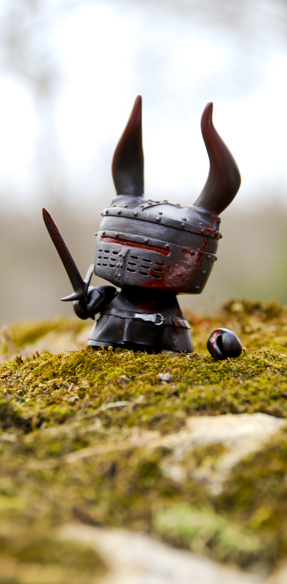 One day, when the 5-year-old Fiona was playing with her toys, a serious grown up walked up to her and decided to ask her a serious life question.
He feebly played along for a moment and eventually dropped the toy to ask her, "So, what do you want to be when you grow up?"
Fiona paused for the serious moment, put her hands up in the air, closed her eyes and yelled, "A toy maker!"
He chuckled, patted her on the head, and sighed something like, "That's nice, but you'll grow out of it."
He was wrong.
A little later in life, the teenage Fiona discovered comic books, Star Wars action figures, roleplaying games (RPG), and sci-fi/fantasy novels full of dragons, robots, knights, and magic.
Once again, an adult approached her, but this time, they were not so playful and said, "You have to be more serious now. What do you want to be when you grow up?"
With equal seriousness, she plainly stated, "I want to make toys …and possibly own a suit of armor."
He laughed in slight confusion and told her something along the lines of, "That's interesting, but I'm sure you'll change your mind when you grow up."
Meh, not so much.
You see, Fiona grew up loving toys not because they were just fun to play with. But because they brought a smile to her face.
Their creativity, stories, characters, and endless possibilities for exploration and adventure lit up her imagination. Fiona loves making people smile with her toy creations and illustrations.
When she's not trying to make people smile with her petite armored toy heroes and heroines, she enjoys spending her time baking sugary sweets. One day, she thought, "Why not put the two together?"
Although she doesn't make armored cake figures, she does like to combine her adventurous toy knights with old Kilner jars and pastry displays that bring to mind the feel good memories of candy shops, catching fireflies on warm summer days, and childhood playfulness and imagination. She enjoys capturing and sharing these sweet glimpses of her otherworldly adventurers/adventures with anyone who needs a little dose of playfulness injected back into their life.
Fiona's fantastical creations and designs have mostly been inspired by her deep love and appreciation for fantasy/sci-fi novels, JRR Tolkien, Ursula K. Le Guin, video games, Star Wars, and anything quirky or strange.
She is also a co-founder of PianoVerse, a place to play, learn, and love music in Queens, New York.